Collector's Guides • 08 Jan 2016
Rolex: Why This Unassuming Watch Has Become Recognised As A Status Symbol The World Over
---
My first Rolex came by way of my first serious job – and by that I mean one that required a shirt, a tie and proper shoes, preferably wingtips, ending years of sauntering into the office in tees and sneakers.
Except that it didn't command a similarly serious pay. My dad saw how incongruous my rubber-strapped quartz wristwatch looked with my new ensemble, and quietly offered, as concerned parents do, a GMT-Master that he picked up during a business trip in Switzerland in the 1980s.
For a brand that I have always considered to be low-key, the piece garnered a surprising amount attention from among my collector friends. Perhaps it was because of its unusual Jubilee bracelet; the GMT-Master is usually supplied with an Oyster one.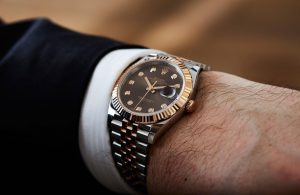 But I suppose the bigger reason is one that has as much to do with the watch, as it does with the person who wears it. It signified a degree of respectability, of having arrived at a certain stage in one's life.
While this may seem superficial at first, there is a deeper reason as to why people who strap on a Rolex are accorded an elevated status. (I must admit that the good taste is not exactly mine, but we shall ignore this tiny technicality for the moment.)
For that I proffer this: Rolexes are timeless. The running quip among fellow journalists is not to worry if you miss a Rolex appointment at BaselWorld; simply report from last year's press kit.
But this conservative outlook also means that the company almost never makes questionable design choices. While many a major watchmaker chase trends, resulting in a confused catalogue and ultimately a diluted brand image, Rolex steadfastly does what it does best, improving on its movements here and brushing up on its cases there.
Pick up a piece worn by Sir Edmund Hillary when he scaled Everest, or any other one worn by numerous world leaders from Franklin D. Roosevelt to Fidel Castro, and it is instantly recognisable as an Explorer, Submariner or GMT-Master of today.
And I guess that's why Rolex is regarded as a status symbol. Sure, there are more expensive timepieces one can easily buy, but wealth is irrelevant. It takes a conscious decision to prioritise quality and reliability over bling and fashion.
The Hour Glass is the official retailer of Rolex timepieces in Singapore, Malaysia, Japan, Australia and Thailand.
If you're interested in these Rolex Watches, you can find more information by visiting us at any one of our boutiques, speaking with our Sales Consultant or simply click here.
Subscribe to The Hour Glass
And stay up to date with the watchmaking world