News • 03 Dec 2021
Piaget Back In Time With Piaget – Excellence in Heritage
---
Master of Ultra-Thin
Ultra-thin watchmaking has always been the Piaget stronghold. Since 1874, Georges­ Edouard Piaget had been supplying movements and movement components renowned for their fine workmanship and sophistication to the most prestigious international watchmaking houses.
In 1913, Piaget first began to appear in watch supplier catalogues as the specialist of ultra-thin components. Valentin Piaget took up the baton and pushed innovation to unprecedented heights in 1957 by introducing the 2mm thick 9P movement that caused a sensation, followed by the 12P and its ingenious micro-rotor, which became part of the world's thinnest automatic watch in 1960. It was the start of elegance and creativity, technique serving design, the Piaget philosophy since the beginning and a record that we still have until today.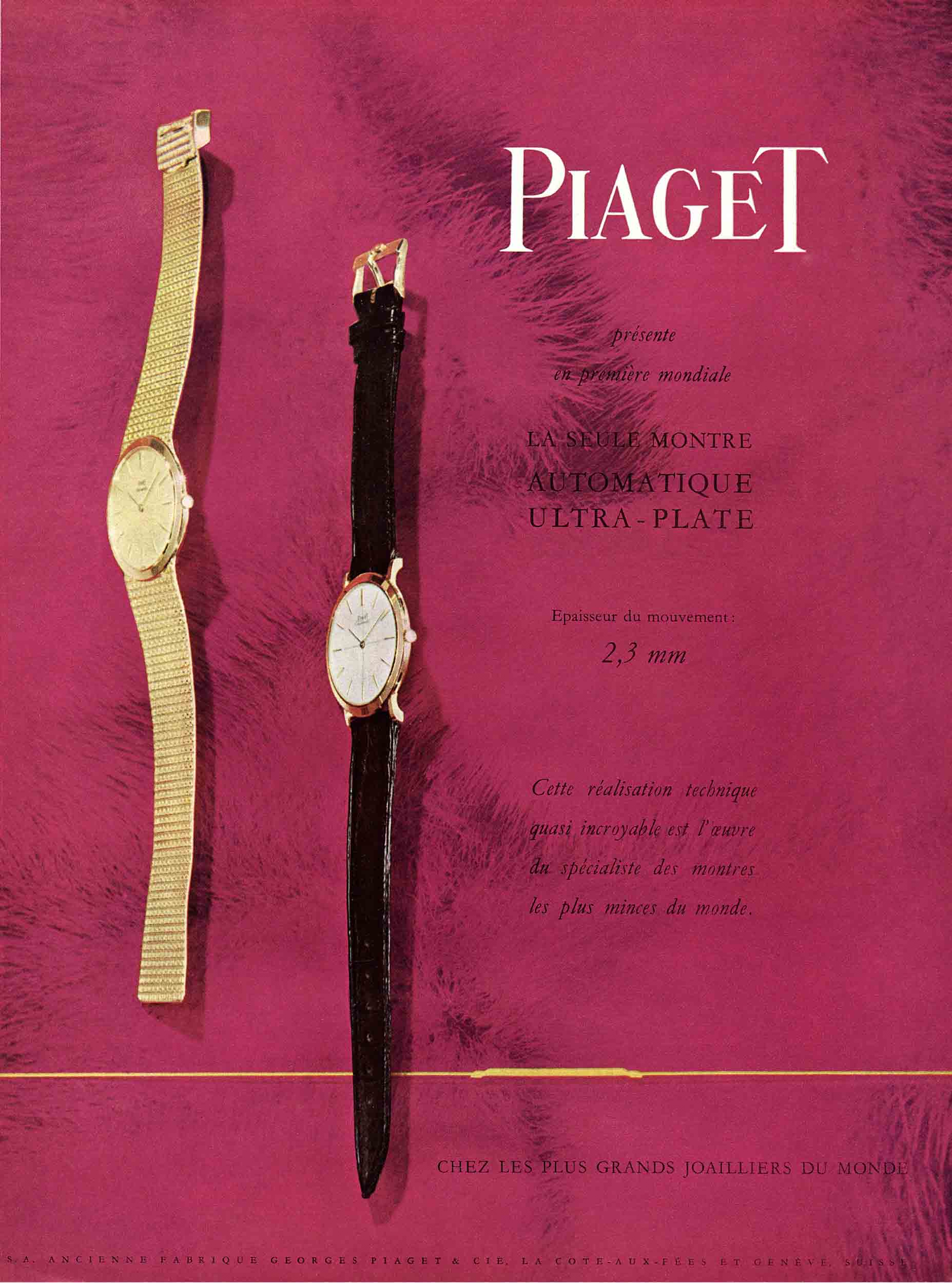 The thinness of the ultra-thin offer generous dimensions to the dial and gives to that essential component a new life. It opened whole new creative horizons. From now on, everything starts from the dial. It becomes the centre of the watch which was soon to explode with colour and radiance with the launch in 1963 of the ornamental stone dials.
Buoyed by the extraordinary creative spirit pervading the 1960s, the Maison raised hard stones to the rank of precious stones. Colour becomes the brand signature: jade, coral, lapis lazuli, tiger's eye and turquoise were incorporated into Piaget's creations to dazzling effect. Over 30 different stones spelled the triumph of colour and expressed boundless creativity and a rare degree of technical mastery.
More than ever, quality and craftsmanship formed the very core of these creations radiating an inimitable sense of exclusivity. The in-house artisans constantly pushed the boundaries of technical feasibility, whether in creating ultra-thin movement, crafting hard stones to within infinitely small tolerances or making gold bracelets as supple as fabric. The Piaget expertise was thus eloquently confirmed and its vocation as a watchmaker and jeweller truly determined. This allowed Piaget to establish itself as the brand of reference for elegant men's watches, attracting Cary Grant, Alain Delon and Miles Davis who adopted its refined elegance.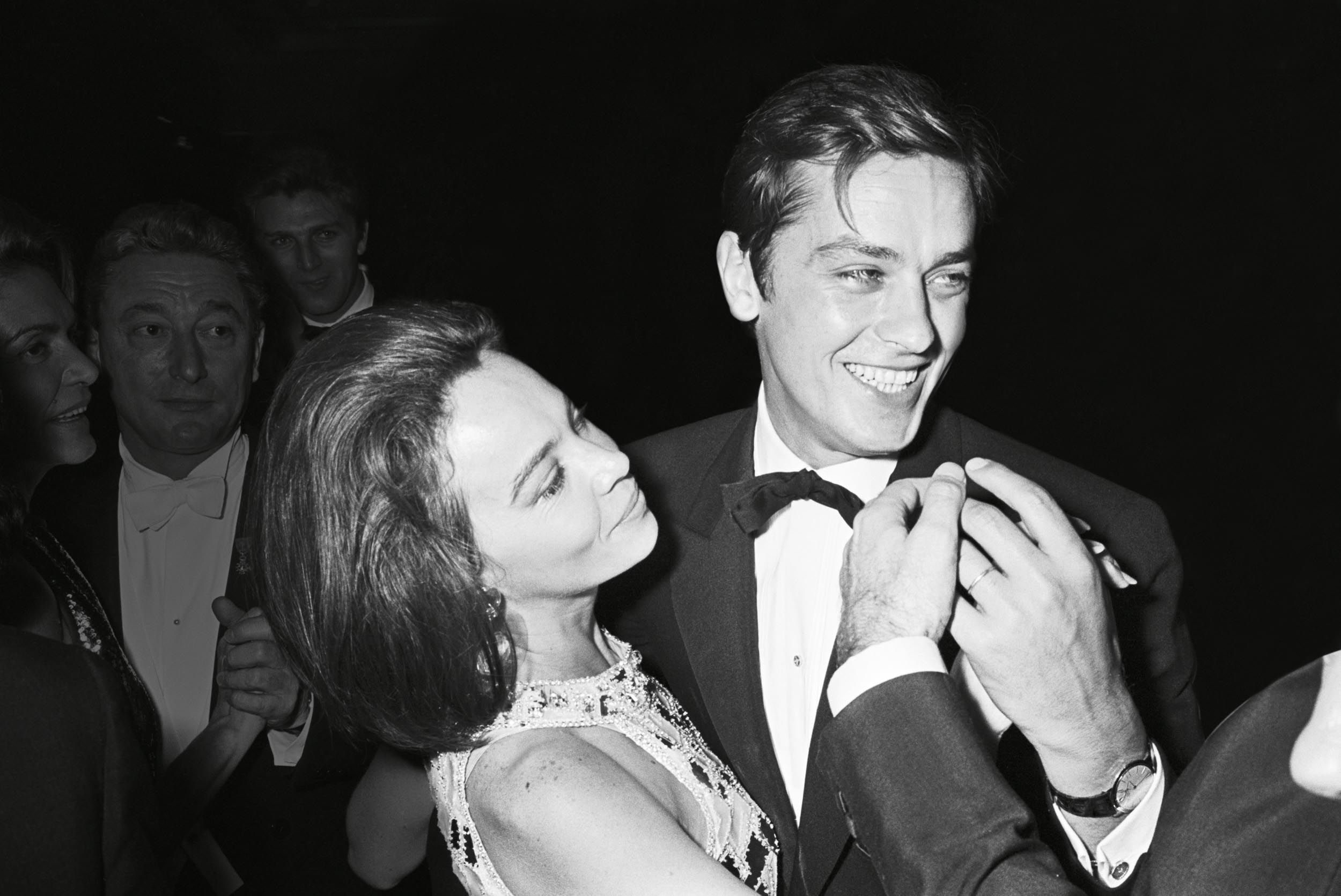 Miles Davis
The legendary American trumpeter composer was a watch collector. Backstage, he had a case for some of his precious watches and he would regularly choose the Piaget Polo skeleton watch to wear before coming on stage. It was a gift by Mr Piaget to the legendary jazzman at the Montreux Festival where he was performing. Miles noted the spectacular design of the watch that infused the telling of time with considerable complexity and exclaimed: "But I don't care about that. It's just stunning!"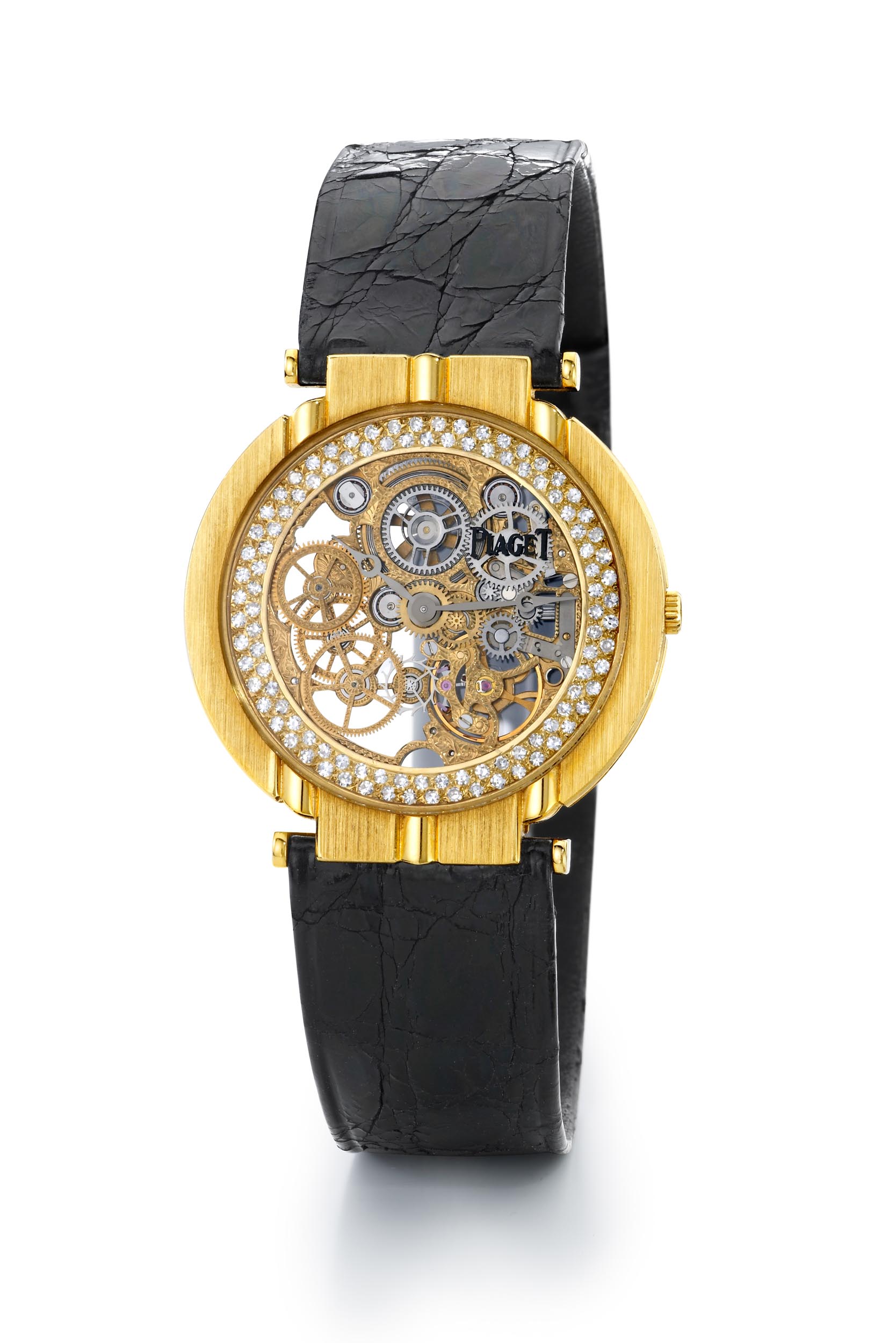 Artisan of Art
At Piaget, artisans are artists and their creations are presented as works of art. Over the years, Piaget has collaborated with artists as Piaget strongly believes in creative minds and artistic values with people who have the same will to create. Using raw materials and strong craftsmanship, Piaget developed its own style; mastering the use of gold, exploring colours, innovating new shapes, using precious gems and hard stone dials, and regarding them as pieces of art.
"I wanted to show that our watches and jewellery are real works of art, and that the people who make them are real artists." says Mr Yves.G.Piaget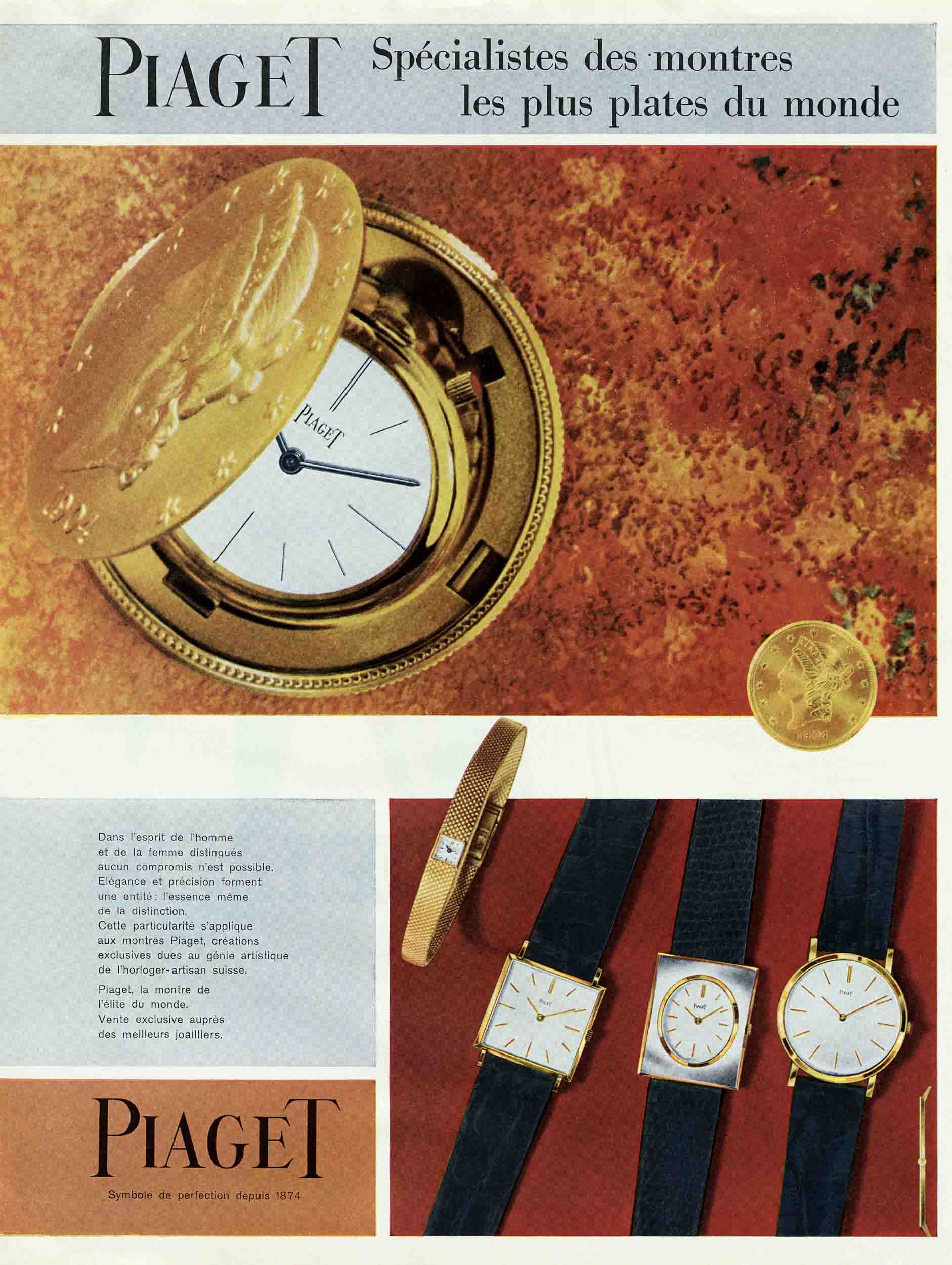 Based on this observation, Yves Piaget developed an extensive personal network with many personalities in the art world at an early stage, weaving special ties with the kind of people whose talent ensures they leave an enduring imprint on their era. It started in 1967 when Maurice Chevalier and Mireille Mathieu (famous French singers at that time) gave private concerts for Piaget in Gstaad or St. Moritz. Yves Piaget was only 25 years old but the friendships he forged with all these personalities gave rise to what is now known as the Piaget Society. Clients became friends and friends became clients.
Connections with famous artists have been established and have given rise to unique and timeless pieces. The avant-garde and audacious style of the House has seduced such famous artists as Elizabeth Taylor, Ursula Andress, Andy Warhol, Alain Delon, Miles Davis, Richard Avedon but also icons such as Jackie Kennedy and Salvador Dali.
Andy Warhol
Raised pop culture images to the rank of universal works of art. In parallel, he decided to store fragments of his life as part of an archiving approach that was both private and artistic. The curator of the Pittsburgh Museum dedicated to him has faithfully safeguarded cardboard boxes filled with these "relics", including traces of a several year-long friendship with Yves Piaget. Hand-written notes, invitations to Piaget parties, empty chocolate boxes… For Andy Warhol, these "Time Capsules", as he called them, deserved to find their way through the years. In his collection, he had 7 Piaget watches and none of them was any special order. Andy Warhol found love in Piaget style creations, matching his extravagant taste.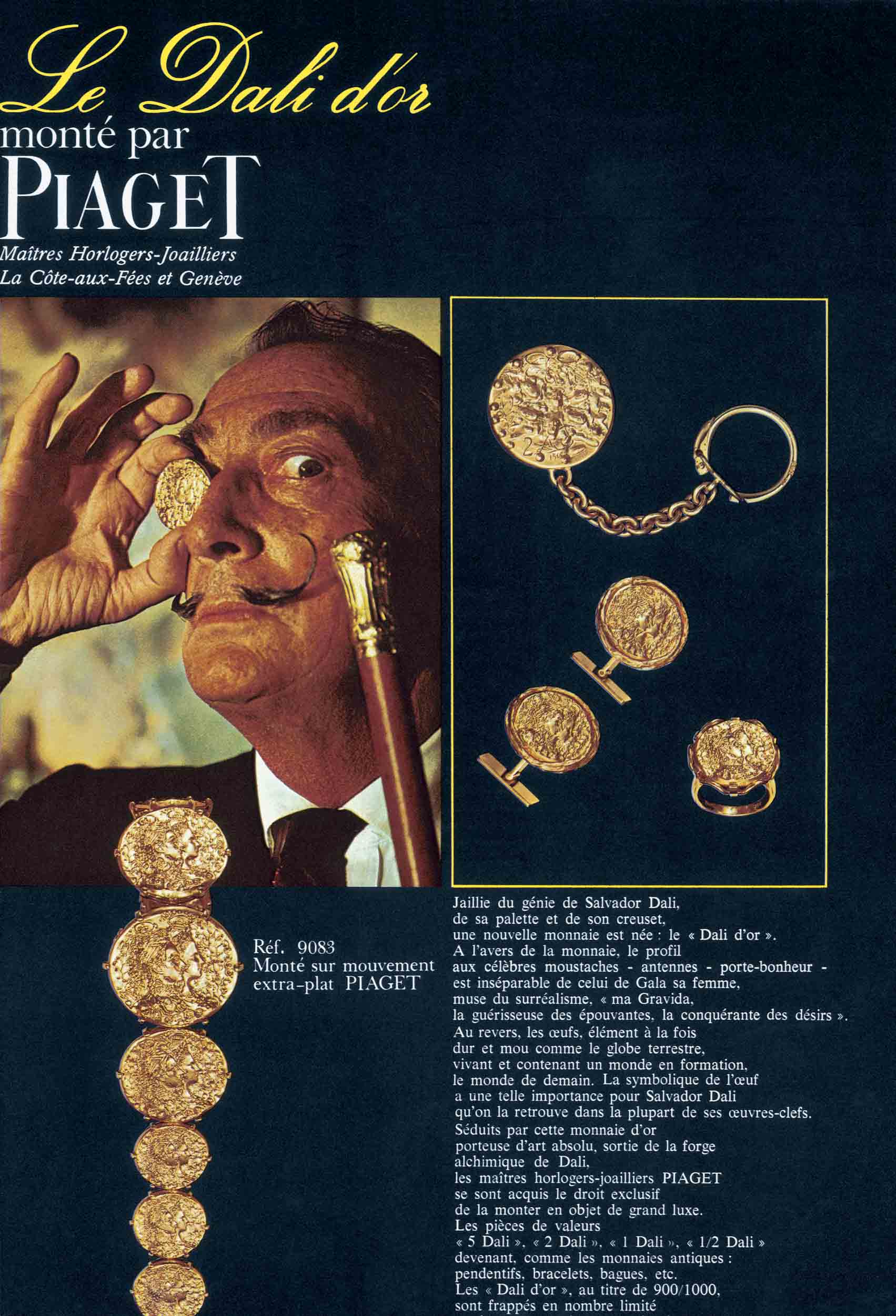 Salvador Dalí
Like a great monarch, Salvador Dalí the megalomaniac had minted his own currency in 1966. There were 4 different values: ½ Dali d'Or, 1 Dali d'Or, 2 Dali d'Or, 100 Dalí d'Or.  During that time, Piaget had made coin watches an emblem of its mastery of ultra-thin horology. In 1967, the Maison acquired the exclusive rights to issue watches, jewellery and accessories which integrate Dali d'Or coins. The creations are designed by Piaget for Salvador Dali.
For the launch of the said models, Dalí demanded a transparent chair so that the audience could contemplate him in all his resplendent majesty. The imperturbable Yves Piaget managed to find an inflatable plastic chair that he was able to place on stage the following morning. Dalí duly agreed to be photographed thus seated, along with his cane and his young pet jaguar on a leash.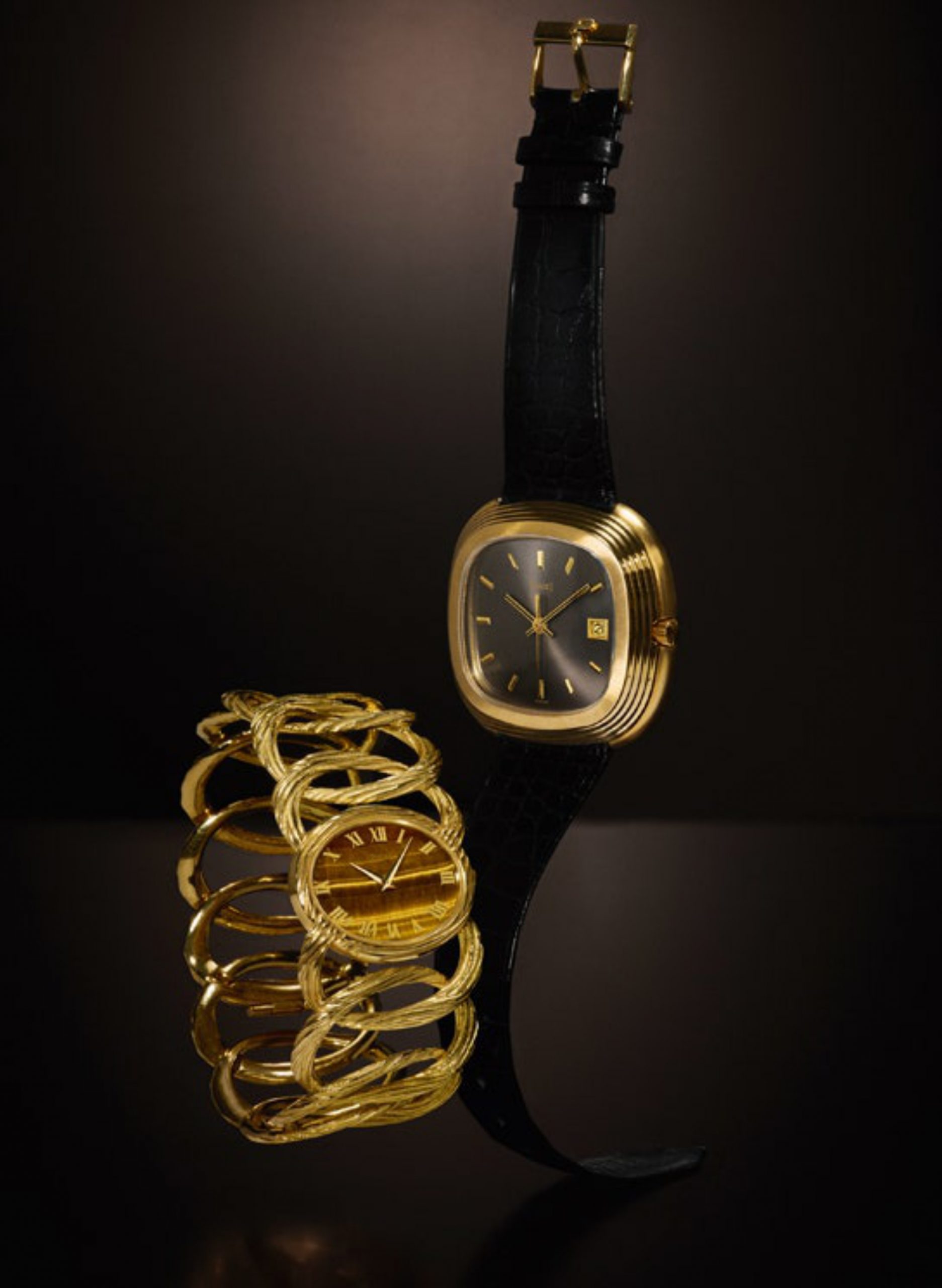 Arman
A keen Piaget watch collector, much like Andy Warhol, the American sculptor Arman struck up a deep friendship with Yves Piaget and regularly invited him to his New York studio. This artist who considered destruction as a necessary step towards creation used to break apart musical instruments before piecing them together again. United by the same taste of finer things in life and a sense of friendship, Arman together with Piaget created seven gold and rosewood sculptures depicting instruments that were featured in a 1988 exhibition held at the Salon Piaget in Geneva.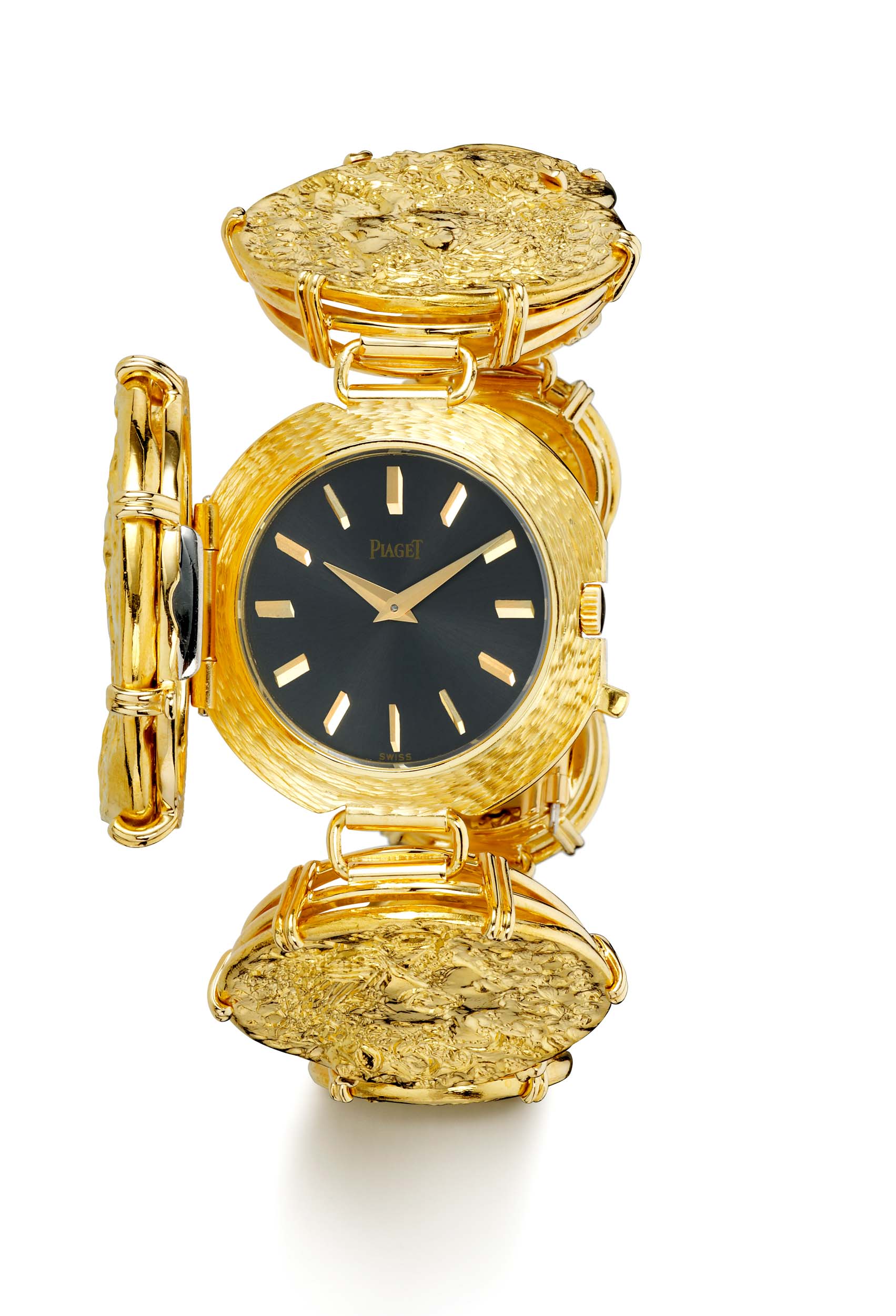 Audacity & Femininity 
The world is full of extraordinary women who are inspiring, creative, daring and powerful, all while embracing femininity in their own unique way. Women appreciate craftsmanship, talent and creativity. They invest in what can be passed down and that create an emotion. Since the 1960s, this fanciful and extravagant spirt adorned by elegant women has been celebrated by Piaget with dazzling jewellery watches.
The 1960s was a period of complete liberation when traditions were turned upside down. Piaget had the courage to defy conventions and honoured women by creating extraordinary designs specially for women. Piaget never treated its feminine timepieces as token complementary options to its men's watches.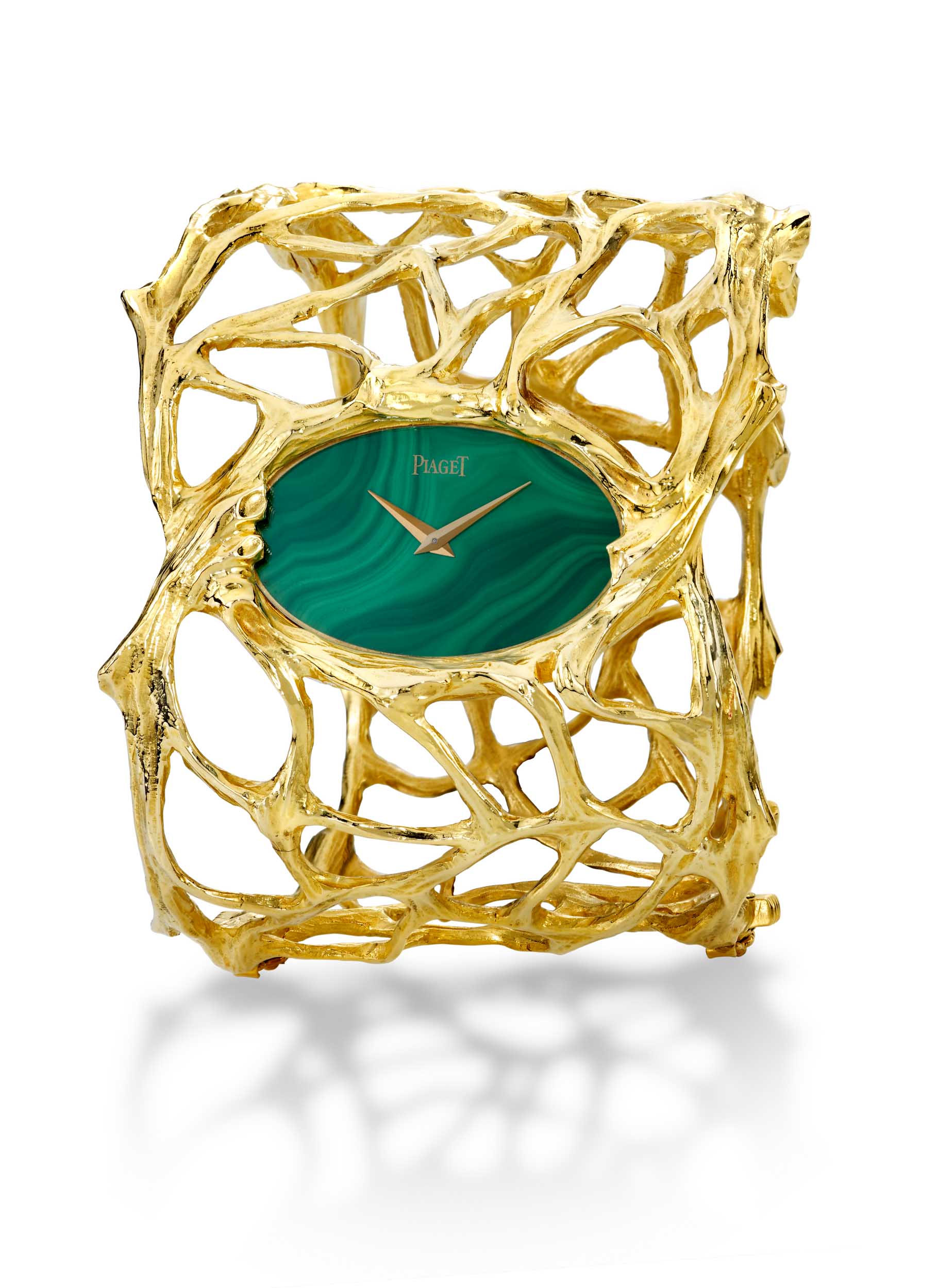 Piaget epitomises unique allure, style in motion, an aura of chic that escapes dogma to follow its own instinct. It is nourished by the life force of creativity that says "yes" to exploring purity to its uttermost limits. Introducing captivating, bold designs, unexpected materials and vivid colour contrasts, Piaget was regarded as the heart of unprecedented style. By making use of all kinds of unique techniques with gold, hard stones and gemstones, leaning on its complete mastery of jewellery and watchmaking techniques, Piaget demonstrated that with audacious creativity a watch could be turned into an exuberant work of art.
Piaget emblematic of freedom to always explore new shapes, textures and colours in the pursuit of beauty had created unconventional gold supple bracelets, secret watches, sautoirs, cuffs, matching jewellery sets and accessories that shined with allure and femininity, a new way to wear time. Regarded as haute couture, Piaget creations made its appearance on the wrist of the most adventurous fashion mavens, the brightest stars and influential tastemakers of the era. They found in Piaget audacity and femininity that revealed their allure.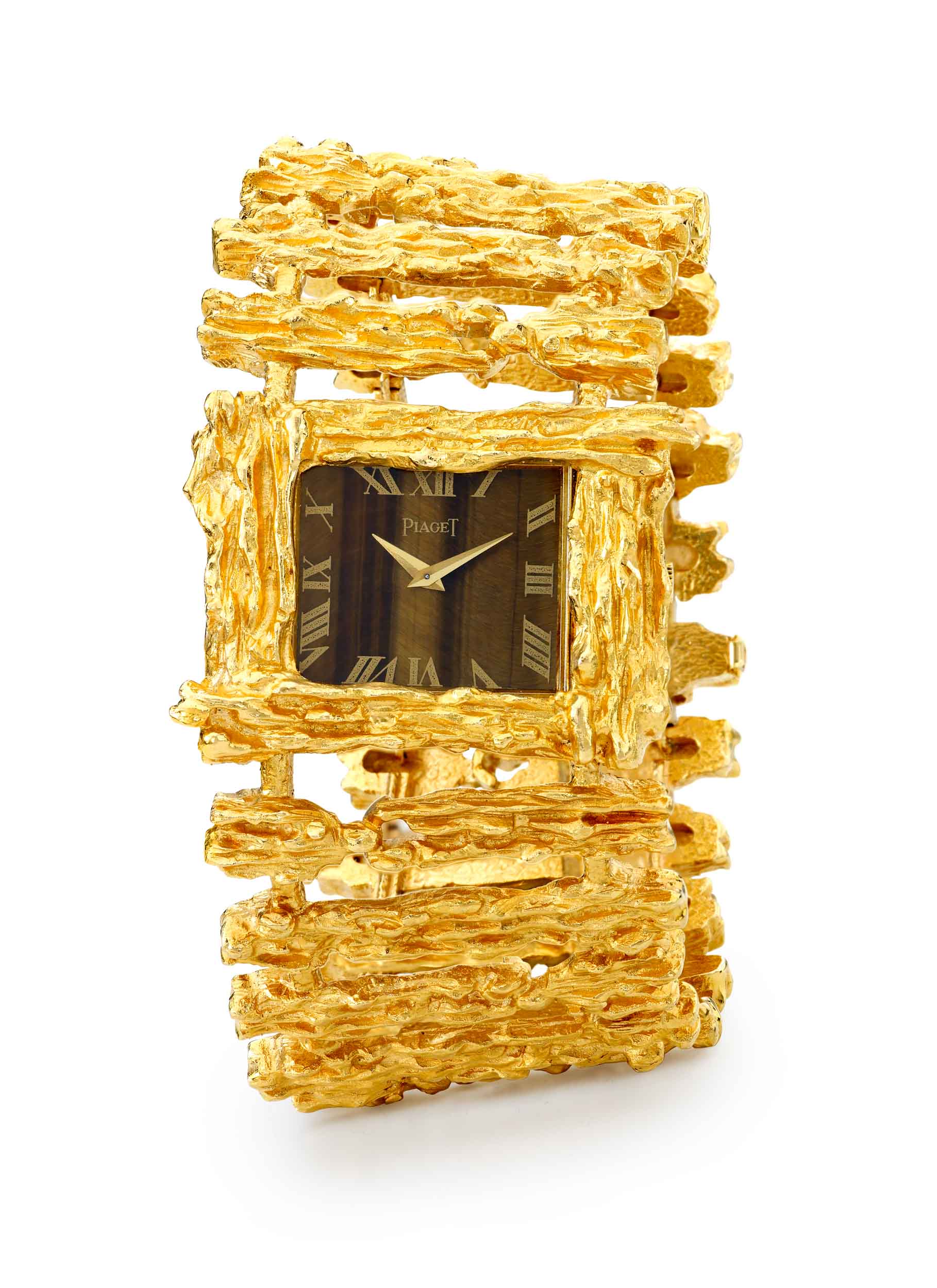 Witness Jackie Kennedy. At a time when formal dress codes were set in stone, one woman in particular embodied the free-spirited glamour of the 1960s. Breaking all the rules with her pastel suits, her shorter skirts and her oversized dark shades. Jackie Kennedy Onassis put her own imprint on style, pairing her effortlessly chic looks with an unconventionally oval watch with a jade dial set with diamonds and emeralds.
Fitted with a supple bracelet featuring the "palace" decoration that evokes the silk-like yet structured texture of natural bark, the yellow gold watch is the epitome of what has become known as the Piaget style. A dazzling display of diamonds punctuated by four emeralds set around the green oval dial, this creation becomes her watch of choice in 1967. Daring, bold and supremely elegant, the legendary watch epitomizes the often emulated, yet never equaled allure of a style icon.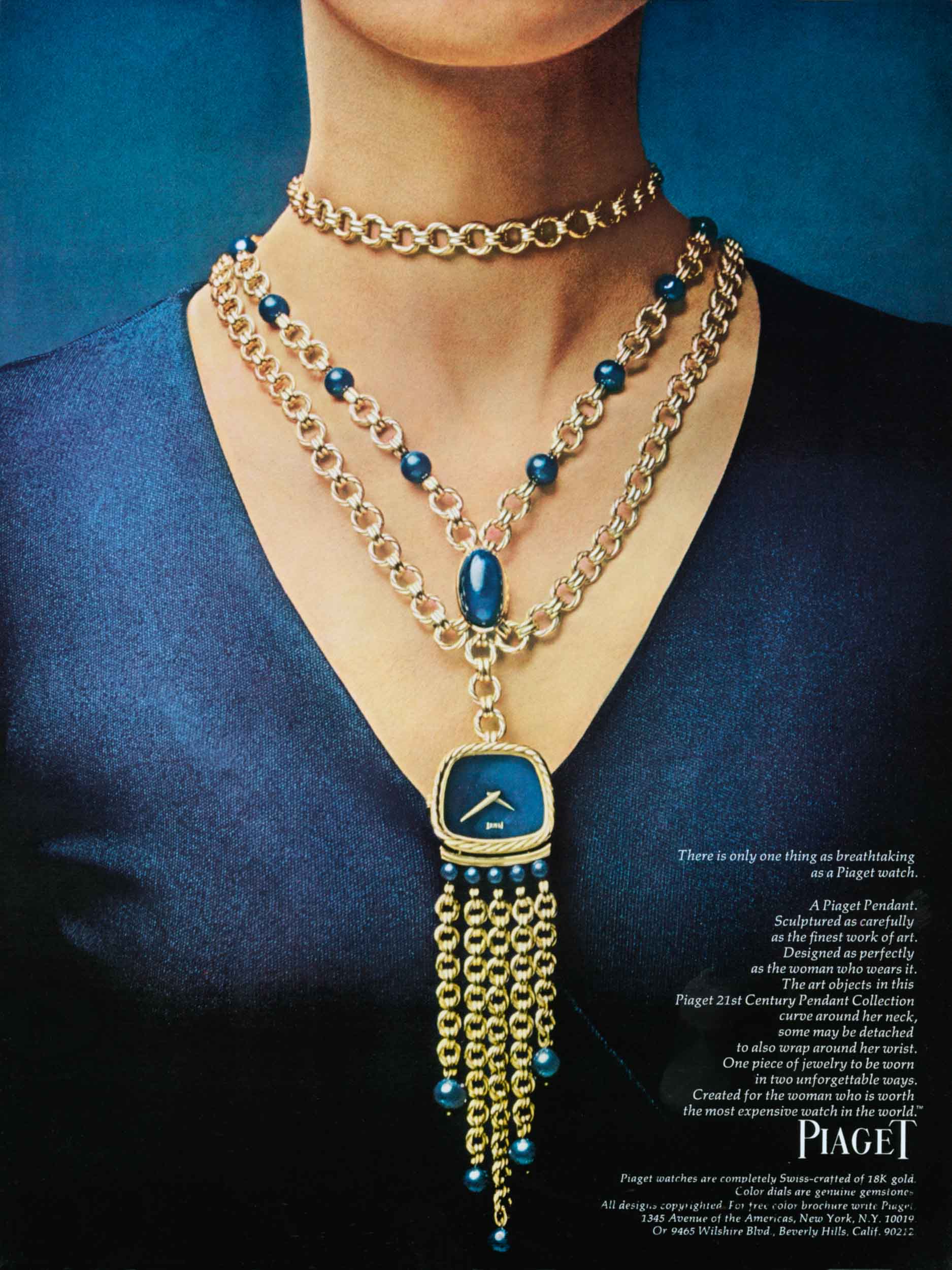 Gathering in the most alluring destinations to celebrate life in a stylish and hedonistic way, they formed part of The Piaget Society. The Piaget Society embraced both the originality of the Maison's designs and the creative freedom they represented. With every one of its creations, Piaget continues to invite every member of the Piaget Society to live on the "sunny side of life", letting themselves be seduced by unique lifestyle and art-de-vivre filled with radiant moments.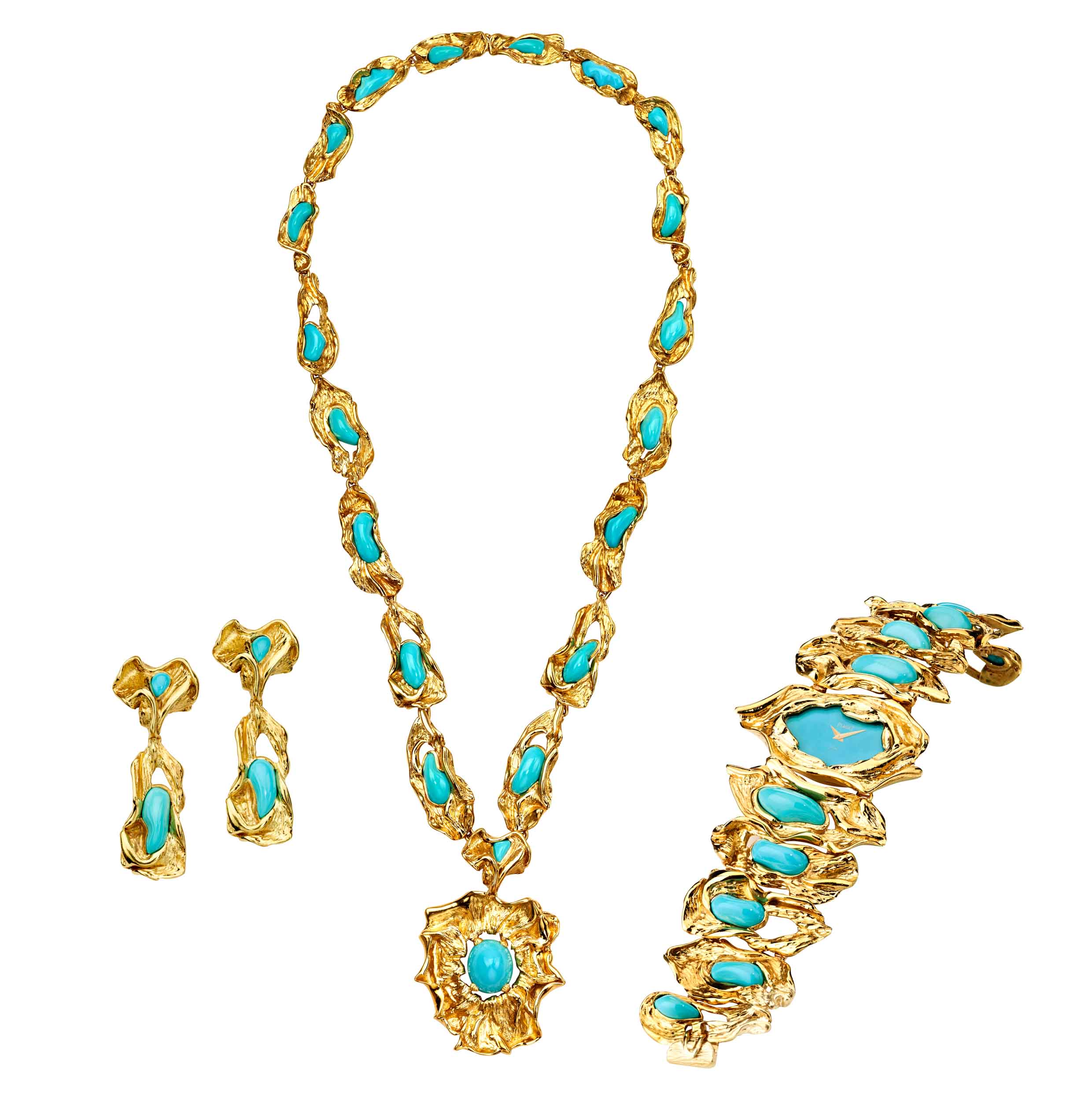 Piaget Private Collection 
Patience, the keen mind of a detective and a firm sense of belief are the attributes that have enabled Piaget to build up its Private Collection currently comprising over one thousand creations, most of them watches. These include the model usually seen in the hands of Emma Piaget in each family photo, as well as those of Elizabeth Taylor, Jackie Kennedy, Alain Delon, Andy Warhol and Maurice Chevalier; Margaret Thatcher's Dancer watch, Nancy Reagan's Piaget Polo; and the Piaget Polo skeleton model proudly worn by Miles Davis — a gift to the legendary jazzman at the Montreux Festival where he was performing. Piaget has also collected several other watches including iconic timepieces that were formerly presented to partners like The Hour Glass in 1979.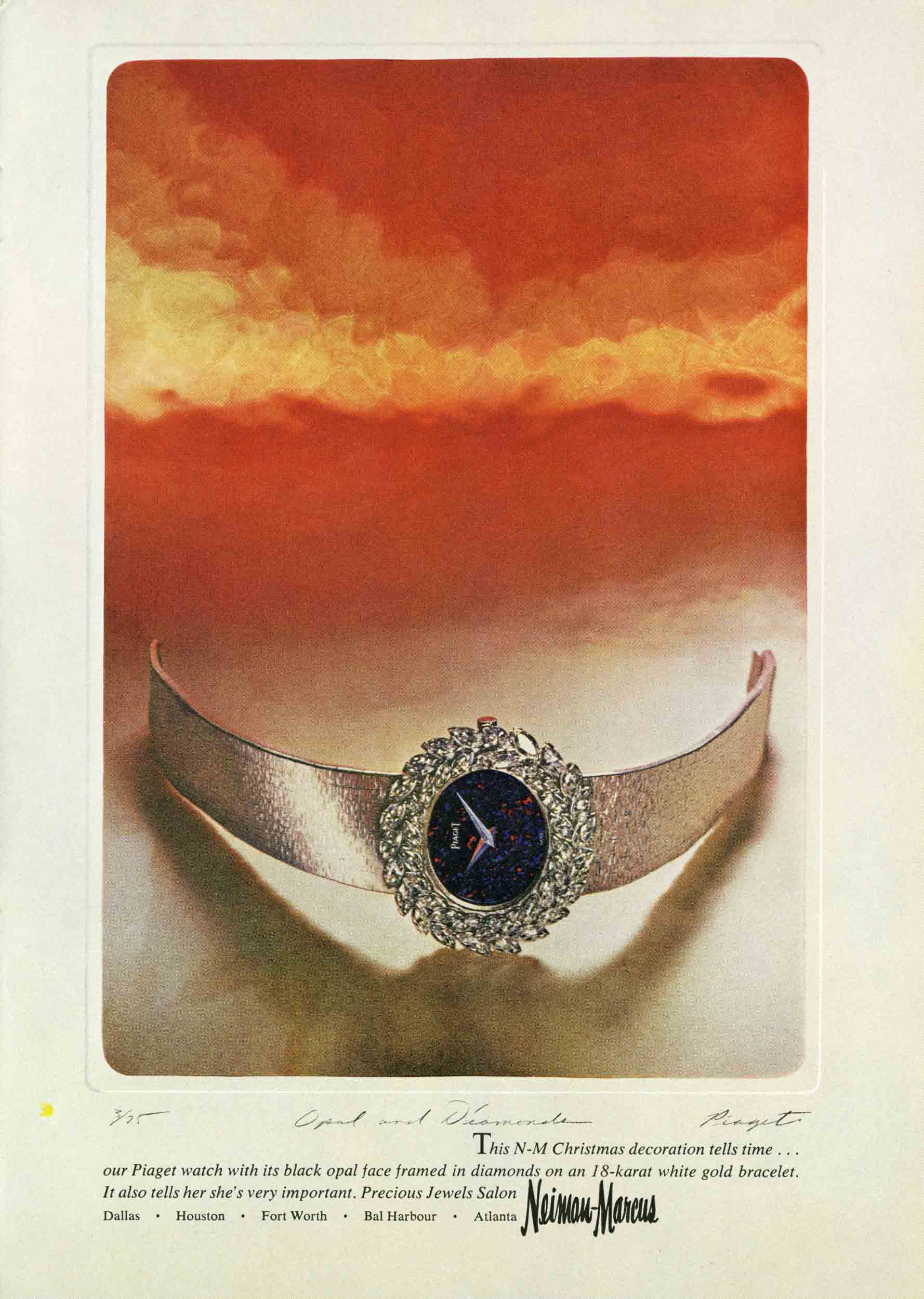 These fabled models turn up at auctions, sometimes held in remote parts of the world. It takes all the vigilance exercised by the Maison to track them down and bring them home in order to testify to their exceptional life experience.
Above and beyond the expertise, the creativity and the audacity it illustrates, the Private Collection is also all about uniting that which was separated, gathering the stories behind the creations and the people who wore them… and interweaving the Piaget of yesterday with that of today. Piaget Artist of Precious Time exhibition runs until December 26th at Malmaison by The Hour Glass, Singapore. All interested visitors are invited to register online at www.thehourglass.com/piaget-artist-of-precious-time-rsvp/ 
Tags: