Collector's Guides • 22 Jan 2016
The True Colours Of Rolex – The Daytona Rainbow
---
Don't be fooled by what some will say about this watch. Yes, it does shine. Yes, it is paved with gems and has many colours. However, the Rolex Daytona "Rainbow" is far from being merely an aesthetically special watch. It is also a notable technical achievement for Rolex.
The main feature of this watch is of course the bezel, the very colourful bezel. Rolex created a watch like no one else before. Using the classic 18k yellow gold Cosmograph Daytona as a base, Rolex added a bezel with 36 square-cut sapphires forming a rainbow pattern of reds, oranges, yellows, greens, blues, mauves and pinks, to produce a mesmerizing kaleidoscope of colour.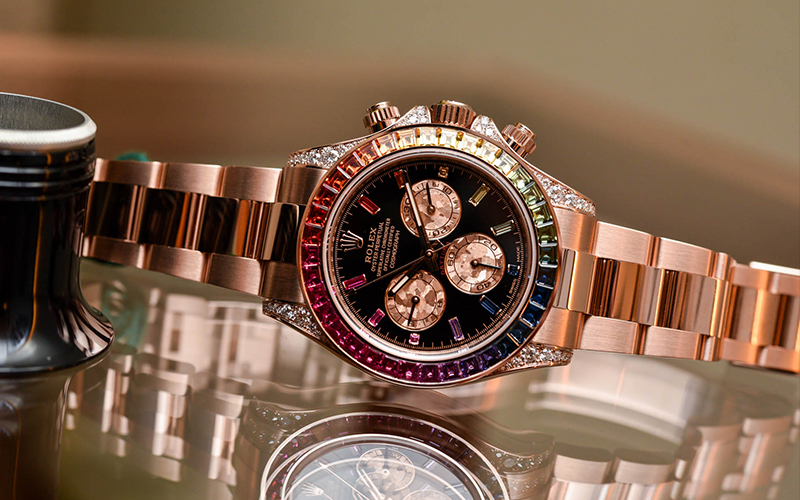 Certainly, such a colourful wristwatch won't suit everyone's tastes. However with the Daytona Rainbow on your wrist you will certainly stand out from the crowd! The look only explains the visual perspective, but you also have to understand the complexity of creating such a bezel. There's much more to it than only the gem-setting technique. For instance, finding the right stones, in size, shape, colour and quality, because the stone's transparency, purity, brightness and colour must be uniform, as well as suit the graduation of the rainbow colours.
The 36 sapphires on the bezel are accompanied by an additional 36 diamonds studded into the horns and the crown-protection. Finally, 8 diamonds are applied on the dial to create indexes. When you know the quality of the diamonds chosen by Rolex, you that these will shine – a lot.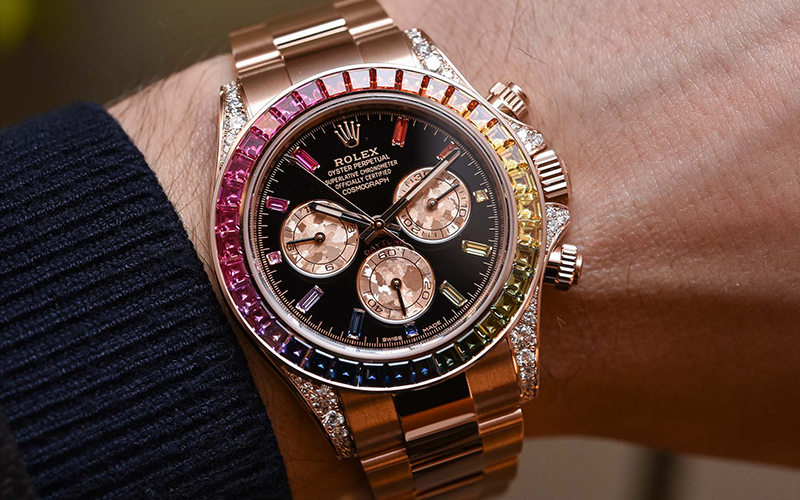 When you think that this is all – and yes it is already a lot – you might want to have a closer look at the dial. The chronograph sub-dials – it is still a functional Rolex Daytona, with a chronograph function, powered by the robust in-house cal. 4130 movement – are made in a proprietary alloy, developed by Rolex. The 'Gold Crystals' resemble a meteorite or a gold nugget, depending on the story you want to tell to your friends.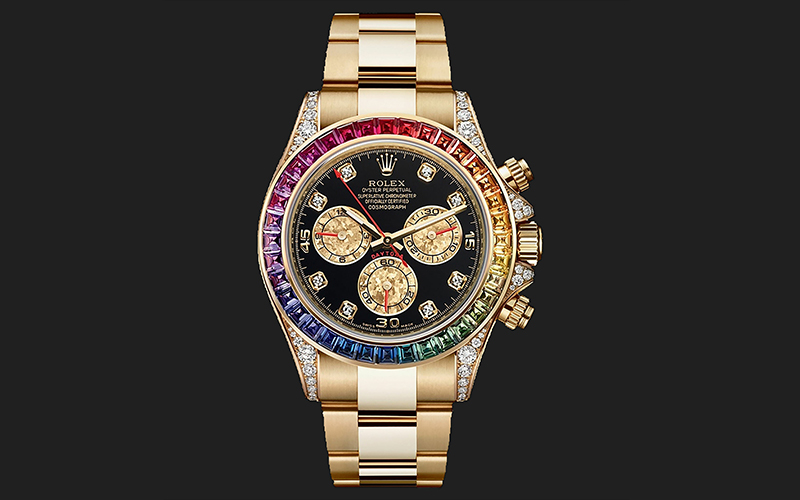 The Rolex Daytona Rainbow might be a very bold edition, a watch that only a few will be able to sport. However, it is also an impressive technical achievement that can't be bought anymore, since Rolex discontinued it recently, reportedly due to the difficulty of obtaining the right gemstones for the bezel.
The number of Daytona Rainbows that have been sold is quite small, so one way or another this Rainbow edition of the Rolex Daytona is very rare. And since rare often increases the desirability, know that it's slowly growing in the heart of collectors, and gaining in value rapidly.
The Hour Glass is the official retailer of Rolex timepieces in Singapore, Malaysia, Japan, Australia and Thailand.
If you're interested in the Rolex Daytona Rainbow, you can find more information by visiting us at any one of our boutiques, speaking with our Sales Consultant or simply click here.
Subscribe to The Hour Glass
And stay up to date with the watchmaking world